Our offer to you
What we currently offer
We offer the following, which are managed on your behalf by the Modernisation Platform team:
What we're exploring support for in the future
Please see our roadmap for what we are exploring in the future. A full list of issues and stories are in our backlog.
If there is a feature you would like to see on the Modernisation Platform, please add it as a new story in our backlog here
What we don't offer
We don't offer the following, although we can help advise if you need it:
application related support, including responding to application specific alerts or failures, unless it is caused by the Modernisation Platform
support and maintenance of application infrastructure
support for tools deployed by yourselves that aren't managed by the Modernisation Platform
application security
ongoing maintenance of the application, including patching the application, updating dependencies, and ensuring it remains deployable
user support for applications
alternative ways for end users to access applications that aren't accessible either over the internet or via existing MOJ networks
What we expect from application teams
We expect application teams to:
monitor and manage the health of their applications and application infrastructure, such as monitoring, logging, and alerts, as appropriate
keep their applications and application infrastructure appropriately patched, up to date, and secure
ensure applications remain deployable end-to-end from their source code
regularly assess whether the service is still meeting user needs, and make appropriate efforts to improve, replace or decommission the service if not
provide their own specialist skills, such as DBAs, in their own teams, if required
maintain their application Github teams and remove users when they leave or no longer require access
Shared responsibility diagram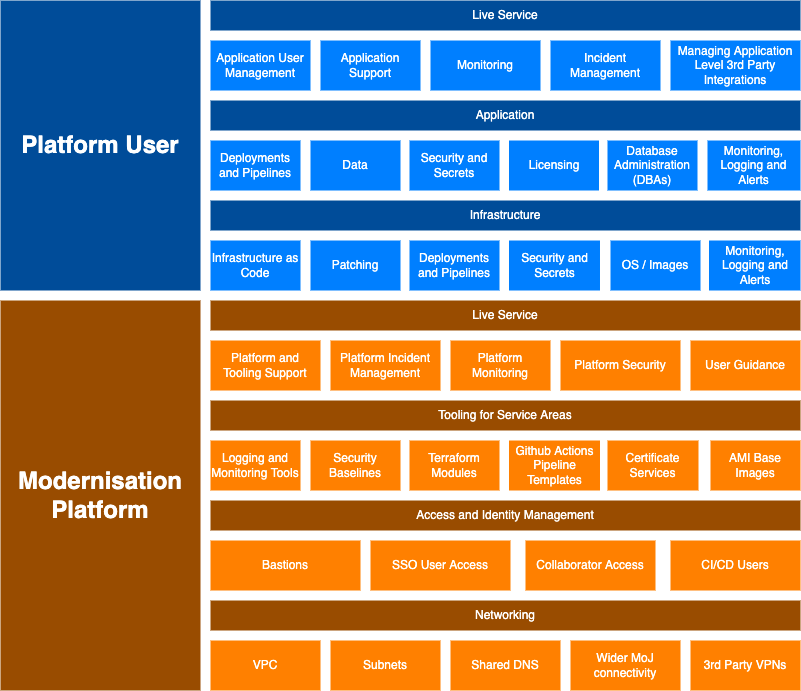 This page was last reviewed on 9 May 2023. It needs to be reviewed again on 9 November 2023 by the page owner
#modernisation-platform
.
This page was set to be reviewed before 9 November 2023 by the page owner
#modernisation-platform
. This might mean the content is out of date.